Strengthens Immune Function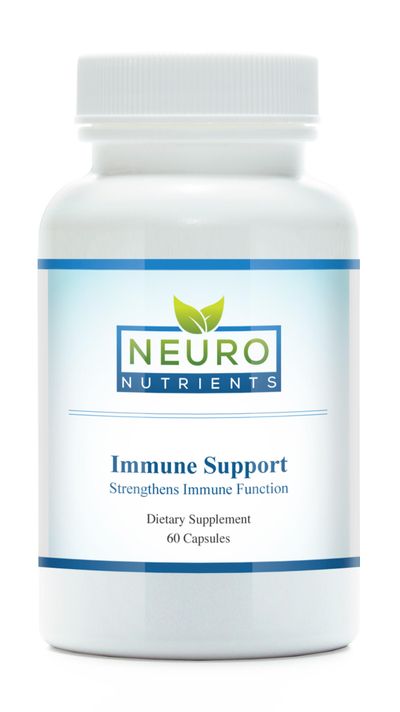 Product Overview
Immune Support contains a synergistic and evidence based blend of antioxidants, vitamins, minerals, amino acids and botanicals that support immune function. Each ingredient in this formulation was carefully chosen based on its level of scientific evidence, foundational role in supporting immune health, and clinical experience in functional medicine supporting patients through times of illness and immune challenges.
Clinical Applications:
Foundational formulation that supports immune health
Aids in resilience when faced with immune challenges
Enhances immune system function
Promotes viral clearance and resolution through maintaining healthy mucosal surfaces
Supports reduction of viral induced inflammation
Promotes clearance of histamine
Supports the innate and adaptive immune system
Serving Size: 1-2 capsules #60 Directions: Children under 4 years, do not take. Take 1 capsule daily for those 4-8 years old. >8 years, 2 capsules daily, or as directed by your health care provider. Take with food.

Product Details
For more information about formula ingredients and peer reviewed supportive references click the button below!
Warning: Contact your physician or medical provider prior to use
Can I increase my dose of Immune Support when I am feeling like I have a virus or illness coming on?
The dose of Immune Support was designed for daily immune support. When under more immune stress, it is feasible to double or triple the dose for 3-7 days, to support the body through that acute stressor. As always, please consult your health care provider for an individualized approach.
Why should I take Immune Support with food?
Zinc is a mineral included in Immune Support. Taking minerals on an empty stomach can make some people have stomach aches and nausea. If you take minerals with food, this decreases that potential side effect, and this is why we recommend you take Immune Support with food.
What if I cannot swallow a capsule? How can I take Immune Support?
You can open the capsule of Immune Support and mix the contents in food or drink to ingest. See our information here on ways to help take supplements if you cannot swallow pills.
Can I take Immune Support if I am breastfeeding or pregnant?
Pregnant women need to be especially careful taking Vitamin A supplementation due to higher doses being toxic for the baby. Immune Support contains 1,437mcg of Vitamin A in 2 capsules; the upper tolerable limit published for pregnant women by the National Institute of Health is 2,800mcg for women 14-18 years old, and 3,000mcg for those 19 years and above. Pregnant or breast feeding women should consult their health care providers for an individualized recommendation.
Can I take Immune Support if I am already taking Vitamin D?
Anyone taking supplements should be mindful of their total daily dose of Vitamin D. In general, it is ok to temporarily increase your vitamin D when there is an active immune stressor. Taking high doses of Vitamin D over time can lead to toxicity, however it is very rare. Most patients take a range of 5K-10KIU of Vitamin D daily, however the government has published upper tolerable limits that are much lower (for adults 4KIU daily). These limits do not taking into account genetic difference with absorption of vitamin D, skin pigment, or other absorption confounding issues. To know your individualized dose of Vitamin D, consider serum testing, and please consult your health care provider.