Antioxidant and Cellular Health Support
"Small and easy to swallow capsules"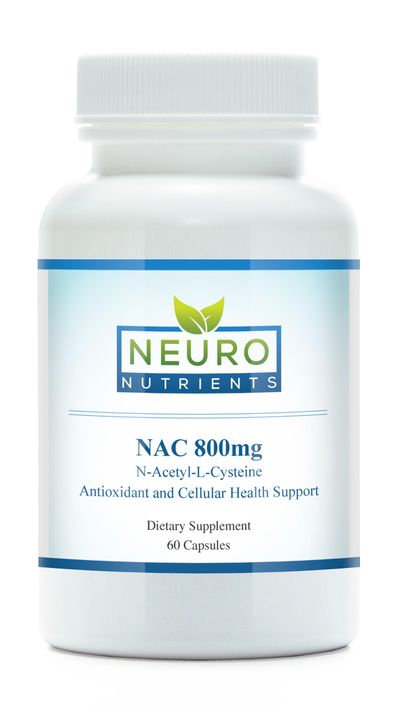 Product Overview
N-Acetyl-L-Cysteine (NAC) is one of the most effective and versatile supplements on the market today. Clinicians in functional and integrative medicine, in addition to those treating mental health disorders, often use NAC as one of their primary supportive tools for their patients. NAC is a powerful antioxidant well known for its potent ability for detoxification, respiratory function, and cellular health. In the brain NAC can support clearance of over stimulating neurotransmitters that lead to irritability, anxiety, and obsessional thinking.
Clinical Applications:
Supports decreasing irritability in the brain
Supports healthy neurotransmission
Promotes reduction in obsessional thinking
Promotes reduction in hair pulling behaviors
Supports healthy brain inflammation balance Improves glutathione and antioxidant balance
Supports healthy cellular detoxification
Supports healthy respiratory function
Promotes healthy liver function (especially with Tylenol use)
For additional benefit, consider layering with:
NAC 800mg + MTV with NAC
NAC 800mg + Omega 3 Fatty Acid
NAC 800mg + Omega 3 Fatty Acid+ MTV with NAC
NAC 800mg + Attention Support NAC 800mg + Mood Support
NAC 800mg + Anxiety Support
NAC 800mg + Calming Support
Directions: Take 1 tablet, once to twice daily, or as directed by your healthcare provider. Serving Size 60 capsules

Product Details
For more information about formula ingredients and peer-reviewed supportive references click the button below!
Caution: If you are pregnant, nursing or taking any medications for psychiatric purposes such as anxiety or depression, consult your health care professional before taking this product.
Can I take NAC with with other psychiatric medications?
NAC may promote many benefits as an additional support tool while on other psychiatric medications. NAC can be liver protective (which often psychiatric medications are processed through your liver, and have potential side effects that can lead to liver dysfunction). It can also help promote healthy glutamate/GABA balance, which can help with irritability of the brain. As always, for an individualized approach to care, please consult with your medical provider about all the medications you are taking before taking this supplement.
Is NAC safe for children?
There is a robust level of evidence and safety in children and the use of NAC.
How long should I take this before there is a noticeable effect?
Oral administration of NAC has a peak of 1.5-2 hours, with a half life of about 6 hours. Some people will notice the effect of NAC at the peak. Since the half life is short, consideration of taking NAC more frequently throughout the day should be considered. Please consult your healthcare provider for more personalized instructions.
Can I mix this with food or drink if I cannot swallow a capsule?
Yes. You can open and dump the capsules and mix in whatever is easiest to ingest. See our information on ways to help take supplements if you cannot swallow pills here.
Can I take this supplement if I am pregnant or nursing?
NAC is possibly safe in pregnancy and there is insufficient evidence to recommend during lactation. Please consult your health care provider before use.